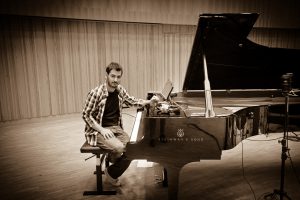 Kostis started classical piano lessons at the age of 5, under the supervision of Despina Stefanidou, an established piano teacher in Athens. He received both his Piano Degree and Piano Virtuosity Diploma with Honours. Whilst Kostis was studying classical piano, he started becoming involved with contemporary and jazz music and, at the age of 13, started jazz piano and contemporary harmony lessons with Petros Chatzigeorgiou, an established soloist, composer and musical director in Greece.
As a pianist, Kostis has been regularly performing in a plethora of concert halls and festivals around Europe, including the Epidaurus Theatre accompanied by the "Athens Camerata" string orchestra, and Colston Hall, Bristol, co-performing with Bristol Ensemble and Martin Kiszko (worldwide established film composer). He has also performed as an accompanist alongside several choirs in the UK.
As a composer, Kostis has scored quite a few piano solo/ensemble pieces, performed by him and other pianists. Most of his film compositions include piano pieces or piano-based themes that contribute to his personal compositional character, blended with rich orchestral and electronic sounds.
As a piano teacher, Kostis has currently over 40 private piano students, preparing for ABRSM, Trinity and Rockschool exams as well as teaching casual jazz, film and classical repertoire.