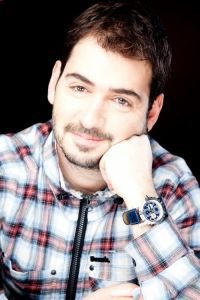 Kostis is a freelancer two-times award winning film composer, [Best Original Score runner-up, Bucharest Film festival 2017, with "Heimlich" and Best Music Track composed inspired by photograph 'Fire in the Pantanal', Wild life photographer music competition 2010 with "Tears of a Lion"]
After receiving his Classical Harmony, Fugue, and Counterpoint degrees with honours, Kostis began studying contemporary composition, supervised by the composer Stathis Oulkeroglou in Athens. He became familiar with the 12-note system, and composed several solo pieces for flute & piano. In 2009 he was offered a place in the Masters course in Film & TV composition at the University of Bristol. Under the supervision of William Goodchild and Martin Kiszko he completed his Masters with distinction, studying Film Analysis, Media Composition, Electronic/Studio Composition, Orchestration and Instrumentation, along with Advanced Acoustic Composing Techniques taught by one of the leading contemporary composers in Europe, John Pickard. After successfully completing his Master's degree, Kostis was accepted as a PhD student in Acoustic Composition at the University of Bristol, completed in 2015 under the supervision of Neal Farwell & John Pickard.
As a concert-music composer, Kostis has completed many solo and ensemble works, including String Quartets, Full Orchestral Pieces and smaller scale works.
Recently he finished a new piece for chamber orchestra, under the supervision of Bruce Broughton, an established oscar nominated American film composer known from many films scores in Hollywood.
Kostis is currently working on his 3rd String Quartet as well as a new work for string orchestra & modular synthesiser in collaboration with Murmux Synthesizers